Fruit presses and fruit crushers
Official APPLE PRESS LTD. website
At our online shop you can buy apple presses, fruit crushers, juice pasteurizers, Bag-in-Box juice fillers and other equipment for juice, wine and cider making.
Juice pressing equipment
Check our latest stock
Fruit and berry processing for juice making
Don't know what to do with your crops of apples, grapes and other fruits and berries that have grown in your orchard? The best and healthiest thing to do is to juice them. It is very simple, and most importantly, your crops will not be lost so you can enjoy your very own home made delicious and natural juice throughout the year together with your children.
Make juices from apples, pears, Japanese quince, rhubarb, apple-quince, pineapples, pumpkin, carrots, pomegranates and any other fruits and vegetables. You can also juice grapes and any berries: red currant, black currant, chokeberry, black haw, cherry, sea buckthorn, blueberry, cranberry. There will be enough juice to drink throughout winter and also to make wine or cider.
Using a fruit press
The prepared raw products are put into the fruit press basket in a special filtration bag, a piston is placed on top and the fruit or berries are squeezed with the help of a screw or a hydraulic jack, creating juice.
High performance.
You can quickly prepare a large amount of juice with the help of an apple press - about 100 liters of juice per hour (with a basket volume of 20-30L).
Robust and durable construction.
All elements of the fruit presses that have contact with the juice are made of stainless steel or oak.
The most delicious and healthiest juice.
When pressed, the juice comes out of a homogeneous substance, without foam or sediments, giving it a rich taste, preserving the more useful enzymes. The juice is also less oxidized.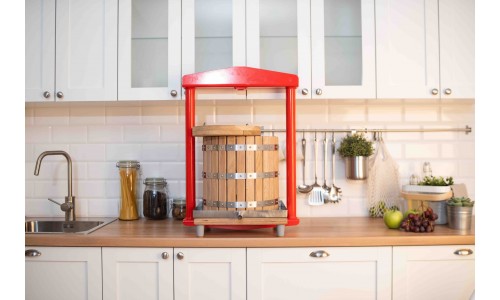 Hydraulic fruit presses
Hydraulic fruit presses are convenient and easy to use. The pressure created by the jack fruit press allows you to press juice with ease.
Hydraulic fruit presses
Cross-beam fruit presses
Tabletop fruit presses are suitable to use in a conventional kitchen. 10 and 20 liter presses will be the best helpers in your fruit garden.The frame design of the apple press allows you to press the juice in one go and eliminates the contamination of screw grease into the juice.
Cross-beam fruit presses
Preparation of fruit and berries for pressing using a fruit or grape crusher
Apples and other fruit or vegetables should first be crushed using a fruit crusher, also known as an "apple grinder".
Conventional cutting with a knife is not enough. Fruit needs to be crushed into small pieces, in about the same way as you'd grate carrots on a coarse grater in your kitchen. Thus the fruit fibre structure is destroyed and it will be easier to press apples.
Grapes should be crushed and destemmed.
Berries should be crushed, mixed and infused with cold water for 1-2 days or boiled with water, and then the resulting mass should be pressed using the fruit press.
Electric apple and fruit crushers
Electric apple scratters crush the fruit into small pieces. It is easy to press the resulting mass, and the juice yield is 50-70%. The apple mills are also suitable for crushing pears, quinces, grapes, pineapples, carrots, pumpkin, ginger and other fruit and vegetables.
Electric apple and fruit crushers
Grape crushers / Destemmers
Electric grape crushers crush berries, while keeping the seeds intact, there are also models of crushers-destemmers, which remove stems automatically. It allows you to achieve the highest quality of juice, and also to press it all to the last drop.
Grape crushers / Destemmers
Buying a fruit press
Buying a fruit press is a long-term investment for your orchard. Juice and wine making will turn into a good family tradition, in which even children can take part.
You can purchase all the necessary fruit processing equipment directly at our online store with delivery to your home address or from one of our retailers.
A fruit press is not only good for making juice
Cross-beam fruit presses of a small volume will always be useful in your kitchen, for example, for the preparation of home made cheese, for pressing excess juice while making zeppelins, for the preparation of home made liqueurs or almond milk.
Also, an apple press will always be useful in the apiary for pressing heather honey, royal jelly, drone milk or beeswax. In that case, stainless steel models are most suitable.
When making wine or cider, a wine press is necessary to juice the crushed mass after maceration and pre-fermentation.
Electric fruit crushers (apple mills) are useful for preserving vegetables in winter. For grating beets or carrots and other ready-made salads, as well as forage cutting in your farm.
Juice pasteurization
To preserve the juice for the winter, the juice must be pasteurized at 75°C.
The juice pasteurizer will help you to heat the juice quickly and conveniently, and then to pour it into jars, bottles or Bag-in-Box bags.
Also, juice can be frozen and stored in the freezer.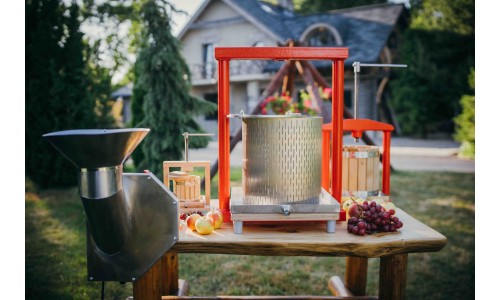 Juice pasteurizers
At our online store you can buy both small household juice pasteurizers for your home or country house and industrial pasteurizers for a small juice production line.
Juice pasteurizers
Juice and wine filling equipment
Filling lines and bottling machines for juice, wine, beverage and other liquid products filling designed to meet the diverse needs of various industries.
Bag-in-Box and Stand up Pouch juice fillers
With the Bag-in-Box holder, you can quickly and easily fill bags with hot juice at home.
Semi-automatic juice fillers will help juice producers to fill pasteurized juice with high accuracy in glass bottles, jars or Bag-in-Box bags for later sale.
Bag in Box juice fillers
Semi-automatic and manual equipment for bottling
The equipment is designed for bottling wine, juices and syrups, cider, beer, spirits, oils, and other products. Our range includes machines for gravity filling, electronic volumetric filling, filling using electronic control scales, low-vacuum filling, and filling using counter-pressure (isobaric) methods.

Other products for juice pressing, winemaking, beverage production and orchard
APPLE PRESS LTD. is the official representative of manufacturers such as "SPEIDEL", "Grifo Marchetti Srl", "ProFruit Machinery", "Tonnellerie Allary", "AZ pack", "VLC flames", "Kefirko", etc.
We carefully select suppliers and constantly expand our range so that everything you need can be found at our online store.
From our blog
Keep up to date with us
"Apple Press Ltd" LTD entered into an agreement on October 15, 2019 Nr. SKV-L-2019/136 by the Latvian Investment and Development Agency for support of the measure "International promotion of competitiveness" program, co-financed by the European Regional Development Fund.